Practice Areas
Litigation and Conflict Resolution
CGRI has a wide experience at Disputes related to different law branches.
The Firm gives advice and represents Insurance Companies and general industries, in all stages and different conflicts. In the presence of different institutions and all justice matters, as Civil, Commercial, Labor, Criminal, Tax, Administrative Law.
Insurance and Insurance Companies
CGRI provides a qualified administration and management of proceeding in case of disasters. Liability of the insurance company and intermediaries. Reinsurance. Sureties. Regulation of insurance entities. Penalties. Autorization withdrawal voluntary or compulsory liquidation. Liability of managers.
Labor, Social Security Law and Worker's Compensation Law
CGRI offers advice to his clients in all the matters regulated by Labor and Social Security in individual and collective labor law.
The Firm has a wide experience in negotiation and labor contract drafts as in all kinds of dispute of high complexity.
CGRI gives coaching and representation to Labor Risk Insurance Companies, as SECLO, mediations, proceeding before First Instance and Federal Courts.
Commercial Law
CGRI offers comprehensive counseling service in relation to the purchase and sale of business organizations. Legal audits. Negotiation and drafting.of all kind of contracts. Counseling and structuring of goodwill transfers corporate. Organization and registration of local and foreign business organizations. Counseling on corporate reorganization and conflicts, both judicial and extrajudicial instances.
Banking
CGRI provides legal advice to banks and financial institutions in different matters as authorizations and license approval in local markets, drafting of all types of loans and guarantees contracts.
At the same time provides recovery services, from tracking down debtors location, instrumentation of payment agreement and cash collection.
Administrative Law
CGRI offers legal counseling in administrative law, including drafting of contracts, participation in public and private bids, drafting of bidding packages and management, including those subjected to special regulations before the relevant government agencies.
Tax Law
CGRI offers advice on matters of taxation law. In the draft of agreements, purchase of business and corporate restructuring, corporate reorganization and all matters of pacifications, designations, implementation and tax strategies.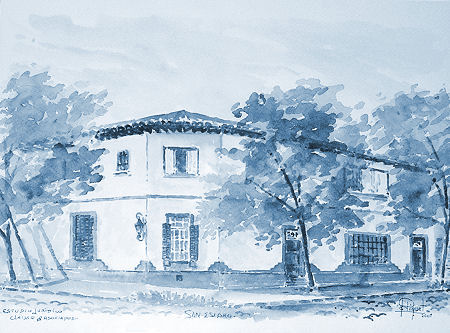 Estudio Jurídico Claisse & Asociados - Piquet's watercolor (2001)
SAN ISIDRO: Maipú 297, San Isidro, (1642), Buenos Aires, ARGENTINA

BUENOS AIRES: Córdoba 817, Piso 2º, Of. 3, (1054), Buenos Aires, ARGENTINA
Tel/Fax: 54-11-4747-0191 / 5324